Guest article by June Duncan . . . Find her at june@riseupforcaregivers.org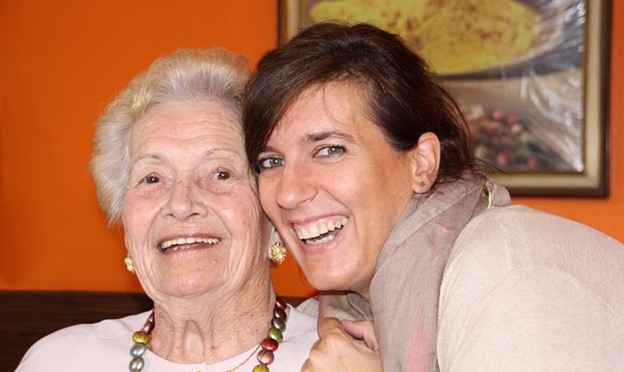 Alzheimer's disease affects about 5.4 million Americans, about 5.2 million of which are 65 and older. It can be your grandparent, your cousin, your sibling, or even your parent who faces the diagnosis. Eventually, those with Alzheimer's require round-the-clock care, and for many families, that means taking the loved one into their own home. If you are about to care for a loved one with Alzheimer's in your own home, read on for some tips on how to improve and prepare your house for the challenges ahead.
Evaluate Your Home
When you decide to move your loved one with Alzheimer's into your home, it's important to evaluate any potential dangers lurking inside. Something as simple as an area rug can cause loved ones to trip and injure themselves. Cluttered rooms make it tricky for loved ones to walk without tripping or falling over things. Before your loved one moves in, plan how you should renovate or rearrange your home to make it as safe as possible.
Emergency Phone Numbers
When you have a loved one with Alzheimer's living in your home, make sure you have a list of emergency phone numbers in a readily accessible location. Contact information for ambulance services, police departments, poison control centers, and fire departments are all important numbers you should have near the phone.
The Bathroom
Install non-skid mats and safety rails in the shower or bathtub to avoid any dangerous falls while bathing. If you have the funds, consider installing a walk-in tub or sit-down shower. Include other slip-resistant mats in front of the sink, shower, and toilet as well. You may need to include a raised toilet seat to make it easier for your loved one. Keep the sink countertops as clutter free as possible. Try to give Alzheimer's patients their own bathroom so they don't confuse other people's toiletry items with theirs.
Medications and Dangerous Chemicals
Keep all medications locked away so loved ones can't accidentally poison themselves. Mayo Clinic suggests using childproof medication lids to make it more difficult for someone with Alzheimer's to open the lids without assistance.
And don't forget to protect your loved one from dangerous chemicals like household cleaners. Keep all dangerous chemicals out of your loved one's reach. You can do this by locking them away in cabinets with childproof locks.
Night-lights and Tripping Hazards
People with Alzheimer's can easily become confused and disoriented. To prevent confusion and accidents, place night-lights in hallways and rooms so your loved one can easily see. Remove any items that might be a tripping hazard, including coffee tables and other furniture that may be difficult to maneuver around.
Locks and Alarms
People with Alzheimer's can easily wander away from home and get lost. This can lead to life-threatening situations. According to AgingCare.com, prevent this from occurring by installing deadbolts on the doors. Add the deadbolts at the top or bottom of doors that lead outside. It will make it more difficult for your loved one to open the doors without you being nearby to assist.
If you're concerned about wandering, you may also want to install a fence around the perimeter of your property as a last line of defense. When choosing a fences company, avoid working with unlicensed and uninsured installers and be sure they're aware of underground utility lines. The size of your fence and materials being used will determine how much you can expect to pay for fence installation.
Install alarms throughout your home that let you know when a door or window has been opened. It's another safety net that will keep your loved one from leaving the house without your knowledge.
When you are about to care for a loved one with Alzheimer's, it's important to prepare your home. Whether it's renovating the home, decluttering, or installing safety equipment, conscientious caregivers should make the necessary arrangements so their loved one remains free from injury and danger.
Photo via Pixabay