Guest article by Sharon Wagner . . . Find her at https://seniorfriendly.info/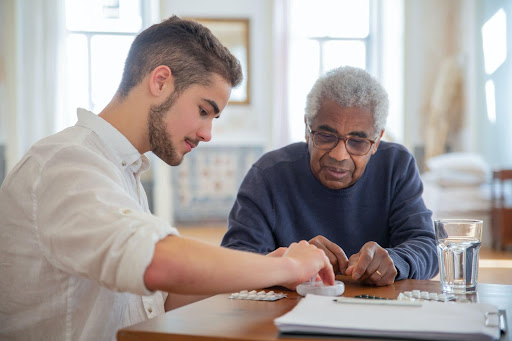 Image Source: Pexels
Moving a senior loved one into assisted living is a deeply emotional process. Resistance towards the idea of moving is a common scenario to expect, however, it is important to make seniors understand the reasons for moving and how it can improve their quality of life. When deciding on the right time to move, consider the following factors:
Homecare is becoming insufficient
As seniors age, their caregiving needs naturally increase. This can add further burden and responsibilities on the shoulders of their caregiver, which can be a family member or a professional. If the caregiver is struggling to provide the necessary level of care required, it's a strong indication of considering moving your loved one into an assisted living facility.
Struggles with ADLs
Commonly known as Activities of Daily Living, these include everyday tasks such as grooming, toileting, eating, bathing, dressing, and more. If your senior loved one lives with you, and you notice them struggling to conduct these activities, it points to the fact that they will now require more assistance.
If seniors are living alone, you can notice their struggle with ADLs during your visits. Here are a few noticeable observations to look for:
Unclean household
Struggle to stand, walk or eat
Lack of grooming
Increased Frequency of Accidents
As reported by the CDC, falls are the leading cause of injury among seniors. While balance issues are common among the elderly, falls are often preventable through having a clean home, regular exercise, timely eye tests, and support from others. Whether your senior loved one lives with you or alone, an increase in trips, falls or other accidents will require greater supervision over their movement and health.
Need of Constant Medical Attention
Whether it be for a chronic condition, injury recovery, frequent infections, or more, regular trips to the hospital mean the individual requires constant medical attention, which you'll be unable to provide at home.
Assisted living facilities are well-equipped to provide 24/7 medical care, whether that be help with medications, physiotherapy, or more, you can be assured that your loved one's needs are taken care of at all times.
Lack of Companionship
As reported by The Hill, 22% of individuals in the United States between the ages of 65-74 years live alone. This number increases to 33% for those 75 years and above. This is an alarming statistic as loneliness and isolation are two major causes of various physical and mental problems among the elderly.
Assisted living provides them the opportunity to participate in various social activities such as bingo nights, field trips, prayer services, movie parties, and more. Additionally, it also helps them form a social circle by making new friends.
Affording Assisted Living
As reported by Genworth, the monthly median cost of assisted living is $4300. However, costs can vary depending on the state and the type of services included. Having long-term care insurance is one of the best ways to cover the costs of assisted living. However, it requires one to buy the insurance years before the decision to move.
Alternatively, one can pay for assisted living through a combination of the following two options:
Out of Pocket
This involves using one's savings, investments, pensions, retirement funds, etc. While you may not be able to cover the full cost, it can help offset the amount needed from other sources.
Selling a Home
The sale of a home can generate enough funds to cover all your assisted living costs. This is a good option for seniors living alone as they anyway will no longer be able to inhabit the property. Rather than continuing to spend resources on maintaining an empty home, they can sell the asset and invest funds towards their health.
Before listing the home, determine the property's current worth by using an online home value estimator. Additionally, you can hire a real estate agent to help you get buyers and land the best price for the home.
Making the transition will never be easy, but reviewing the above-mentioned scenarios will help you choose the right time to make the move.
This resource guide is just one example of the great content you can find on The Fundamentals of Homecare website.
🎀