Guest article by Mary Shannon . . . Find her at http://seniorsmeet.org/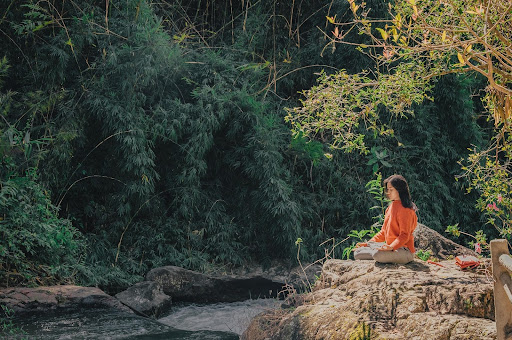 Photo via Pexels
Professional caregivers have a lot on their plates. They're used to prioritizing their clients over themselves—but if taken to the extreme, that can lead to burnout. Therefore, self-care is absolutely vital. Here's how you can find balance with working, caregiving, and making time for yourself, courtesy of The Fundamentals of Homecare.
Develop a Self-Care Mentality
Identify what's holding you back
When thinking about self-care, it's easy to think that you are being selfish or that you don't have time for it. In the medical field, there's a lot more to worry about: taking care of patients, night shifts, and long hours. Even with a hectic schedule, you can adjust your mentality about self-care. Having a growth mindset can enable you to move beyond a limiting mindset. This can also give you a sense of openness about what will involve taking care of yourself, and it doesn't necessarily mean sacrificing anything essential.
Take responsibility for self-care
Make time for self-care by using whatever time you get during the day, instead of trying to take it all in one chunk. Some medical jobs don't have much downtime while on the job, but if you make it a priority, you can find it wherever necessary.
Reduce Stress
Take regular breaks
A crucial part of self-care is taking breaks from stressful circumstances and situations. If you work at a hospital and break time is limited, reserve that time to unwind after work. When you're caregiving, these breaks can be a little bit more flexible. Most tasks can wait about five minutes.
Recognize early warning signs
The stress from working in medicine can take a toll before you realize what's happening. Take time to reflect and identify the source before it causes you to lash out. If you say things you regret, write down the triggers and figure out how to remedy them in the future. Then forgive yourself and move on.
Seek retail therapy in moderation
The next time you plan to go shopping, think of it as a coping mechanism. Despite its negative reputation, studies show that an occasional shopping spree can reduce stress without creating feelings of guilt about what you buy. The key is to set a budget before you head out; focus only on the items you had planned to purchase. If you have any leftover cash, you can invest in products that enhance your self-esteem. Whether you're purchasing eyelash extensions, massage oils, or other feel-good products, research buying guides and top brands online to stay within your budget.
Make your home a sanctuary
While there's no doubt that your workspace can be very stressful, it is also true that your home can be the best treatment for the problem. Think about ways that you can enhance your living space so that it is more relaxing and enjoyable. Some of the most popular enhancements are the easiest, such as getting rid of unnecessary clutter and decorating with plants and flowers. However, feel free to get creative with how you use your abode to make you feel better and more able to deal with the rigors of your job.
Recognize when it's time for change
You may find that after trying these stress reduction techniques that it's still too much. If that's the case, then it may be time to look for a different job. That can be stressful on its own, so make things easy for yourself at the start with a free resume builder that will provide you with a great-looking resume. With it, you can carry on confidently with your job search.
Take Care of Your Body
Engage in healthy habits
Smoking can temporarily alleviate the symptoms of stress, but the benefits of quitting are far higher: better health, less dependence, and even saved money. As you or your loved one work toward quitting, consider purchasing an air filter to clear the smell of smoke from a room. Air filters specifically designed for smoke are a low-key way to boost health without having to change your daily routine.
Exercise frequently
These days, many people exercise at home instead of in the gym. If your medical residence has a gym, take advantage of it. If not, exercise during breaks in caregiving, or do small, 15-minute increments at home, outside, or anywhere else you can get your heart pumping. Any exercise you get will help you feel and work better, so don't neglect this important element of self-help.
Get enough sleep
If you work hospital shifts, sleep tends to fall by the wayside. Sleep deprivation can create a cycle where stress causes sleep problems, which then result in stress. If you have to take care of a loved one right after work, schedule times for shuteye. Try to really prioritize sleep, as it significantly affects physical health, as well.
Connect
Take meditation breaks
Meditation is everywhere these days, and for good reason: It works. Many doctors are starting to meditate now. It can allow you to compartmentalize your life—work, caregiving, and so on. Take a few moments each day to practice meditation. It will become easier and allow you to focus on a new task.
Reach out to loved ones
Sometimes you need someone to talk to. Loved ones are excellent for this. They can be family or friends, and you can also find allies if you need help with your caregiving.
Self-care is necessary for caregivers from all walks of life, including medical professionals. It can help you take control of your own life and move beyond burnout. Make it a priority and you'll be thriving again.
This article is brought to you by The Fundamentals of Homecare, where our mission is to ease the burden of the overburdened—and highlight how caregivers have a very honorable occupation. For more information, contact us today!
😎