Guest article by Mary Shannon . . . Find her at seniorsmeet.org/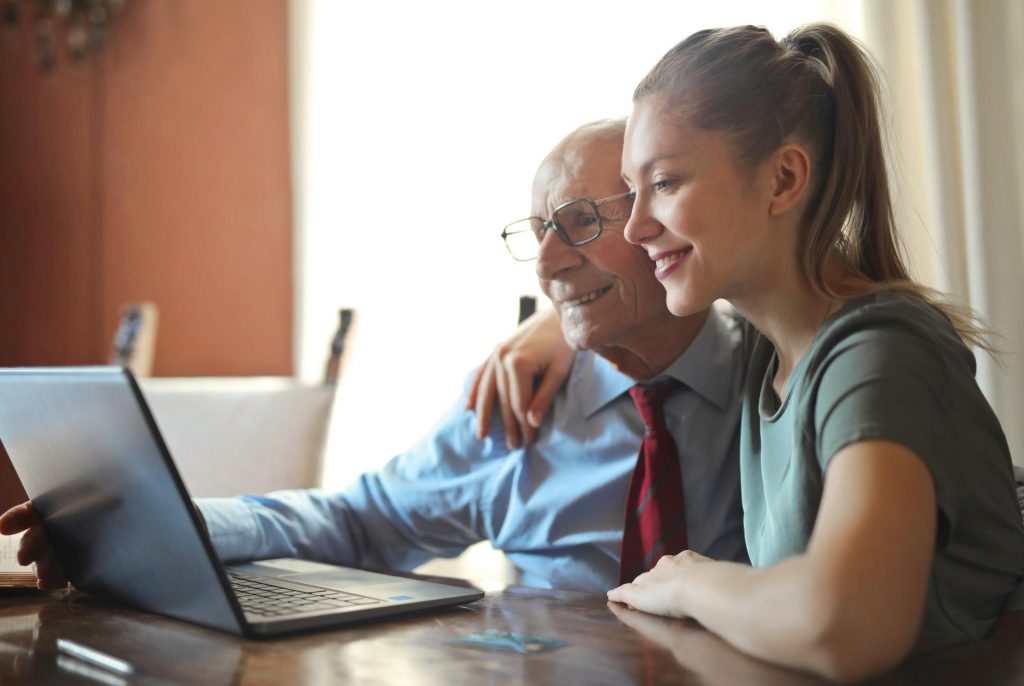 At any age, social isolation can be a major threat to our physical and mental wellbeing. When it comes to aging in place or aging in community, you have a range of senior living options that can help you stay active and social. Still, it can be hard to stay in touch with friends and family. It's not always possible to get out of the house and socialize with your neighbors or visit your loved ones, especially if they live far away—or a global pandemic keeps you apart! Here's how you can take advantage of user-friendly tech tools to stay connected with loved ones during your senior years.
Get Online
Before you can embrace the wonderful world of digital communication, you have to get connected to the internet. That ancient dial-up connection just won't do! You need access to fast, reliable internet to enjoy online activities and digital tools like live video-chat and document-sharing apps. Don't worry, high-speed internet doesn't have to be expensive. If you're on a tight budget, you may be eligible for discounted fiber-optic internet through Verizon's Lifeline Discount Program! Whatever your circumstances, search around for discounts and savings opportunities, and you're sure to find a solution.
Invest in Some New Devices
You may also need to invest in some new tech devices. A user-friendly smartphone, for example, will enable you to download all kinds of apps that can help you organize your daily life and connect with loved ones from anywhere. There are also several laptops and tablets that you can use to follow your grandkids on social media and participate in family video-chat calls with ease. If you have a hard time finding your way around a regular smartphone or computer, HuffPost recommends getting a simplified tablet like the GrandPad or Claris Companion.
Download Video-Chat Tools
Once you have a solid internet connection and a device that you feel comfortable using, it's time to start downloading some social tools! Start by installing a simple video-chat app so you can call your friends and family at any time. Some great options include Facebook Messenger, WhatsApp, FaceTime, and Google Duo. All of these services are free, but some can only be used on certain devices. It never hurts to try a few and find out what works best for you!
Try Social Media
Whether you want to reconnect with old friends or look at photos of your adorable grandkids, social media can help you stay socially engaged in new ways. Social media also makes it easy to make new friends, learn about local events, and find groups of people who share your passions and interests. You can even use social media to play online games with people! Since there are many social media platforms to choose from, The Arbor Company suggests looking at some that are both popular and straightforward to use, like Facebook and Skype. You can also talk to your family members to find out which ones they use to share photos, videos, and life updates.
Install Senior-Friendly Apps
Besides helping you connect with loved ones, technology has the potential to benefit your life in several other ways. For example, certain apps can help you organize your grocery lists or keep your brain sharp through cognitive games. There are apps that can help with financial organization, appointment scheduling, medication management, exercise, food delivery, and more! Healthcare Dive notes — technologies like these can help make aging-in-place possible, so be sure to take advantage of all the great tools that are available to you.
Using technology to stay connected with your friends and family is easier than you may think. You just need a good internet connection, a user-friendly device, and a few simple apps. Once you're all set up, you will have access to a whole new world of possibilities at your fingertips!